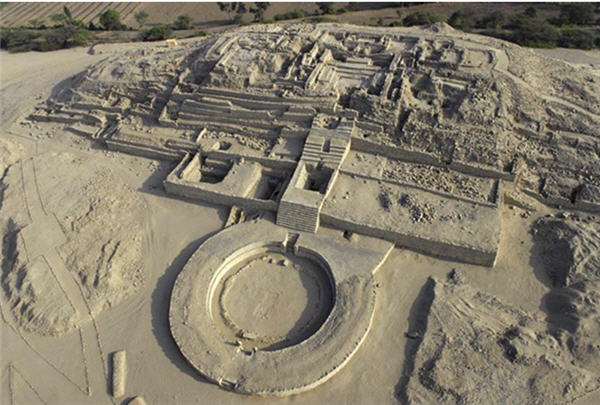 HISTORY OF PERU SERIES PART 1: THE DAWN OF URBANIZATION
June 23, 2010 by Andean Air Mail & PERUVIAN TIMES · Leave a Comment
The following is the first of a series of articles on Peru's history, incorporating stories from the Peruvian Times archives, as well as links to videos, audio and other external sources to provide a rich background of information. The first section of this series includes 20 articles, to be published in the coming weeks, beginning with the early history of Lima.
By Paul Goulder
Special to the Peruvian Times
Together with China, India, Egypt, Iraq and Mesoamerica, Peru forged the "cradles of civilization", the first recognizably urban areas in world history. The photo below (which, although in colour, seems mainly grey reflecting the desert materials of the site in the early morning light) shows the main pyramid and amphitheater, just one part of the complex of constructions (including six truncated, terraced, pyramid platforms) at Caral in the Norte Chico area some 180 kilometers to the north of Lima.
In this part of the special History of Peru series for the Peruvian Times we ask why, when and where did humans first settle in towns and cities in what is now Peru? Was it for security in war or to specialize in trade? Was it mainly all happening around 3000 BC? And why did this take place in the Norte Chico area?
In short, how did early-Peruvians move from a simple nomadic life to forming more complex societies, congregating into urban or semi-urban areas?
Caral stood out as a clear candidate for inclusion in our series not least because it forms part of a greater "complex of formative towns and archaeological sites" (the whole Norte Chico zone) but also because of its current high-standing in the popular imagination.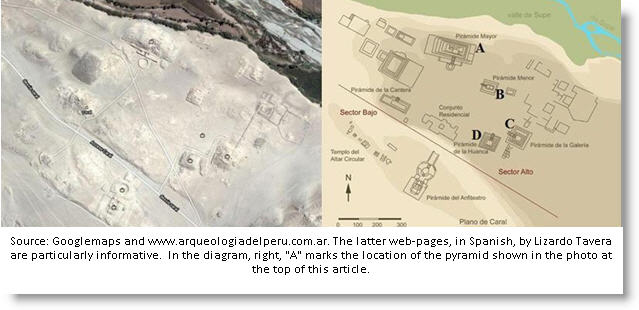 At the site (see also Part 2, next week) with the competent guide provided by the Caral-Supe project – which trains locals to be amiable, interested as well as interesting commentators as they walk you round – an hour or so is enough to provide an intelligent understanding of Caral's history. (Bring a wide brimmed sun-hat and comfortable shoes.) Manuel, our guide, was immensely proud of his ancient ancestral heritage and did come from the nearby village of Caral.
Taken as a whole, the zone provides dateable materials stretching even further back than 5,000 years ago. Caral has produced little evidence that people at that stage formed towns or extended settlements as protection against attack, but plenty of evidence of economic specialization and hence exchange and trade (for example making fishing-nets in exchange for fish) associated with unusually long periods of peace.
They had "early khipus" (well, at least one – the khipu or quipu was a pre-hispanic knotted-string recording device) which could have provided the basis for an accounting system. In Sumeria about the same time the world's first writing was, indeed, coming on stream using clay tablets but ceramics was not a technique available in Peru until about 1,800 BC thus impeding the easy development of writing. On the other hand writing in Sumeria seems to have been used mainly for "book-keeping".
Some of these questions are further explored in the BBC Horizon film on the topic. This film is in English though sub-titles are available. In Spanish, some of the most informative videos are from the TV Peru series Sucedió en el Perú (It Happened in Peru). The TV Peru video on Caral includes an interview with the director of the Caral-Supe archaeological project. The video may also be accessed from the the TV Peru website where, as an added bonus, you can watch TVPeru programs anywhere in the world.
The website of the official excavation and development team under the leadership of Dr Ruth Shady Solis is to be found at
http://www.caralperu.gob.pe
. Also, an extended version of this article with footnotes will appear on the
http://academia.wikia.com/wiki/History_of_Peru
website in approximately ten days following its publication in the Peruvian Times. There is also now a museum at Végueta and organized tours to the "three economically-linked cities" of Caral, Aspero and Vichama, all in the same zone. Again, updated information is available from the Caral website.
http://www.peruviantimes.com/history-of ... ion/236447